Just try to recall how many of your friends have called you while walking up the streets at night, just to make sure someone knows that they are safe while traveling in risky conditions.
Well, no more calling and worrying!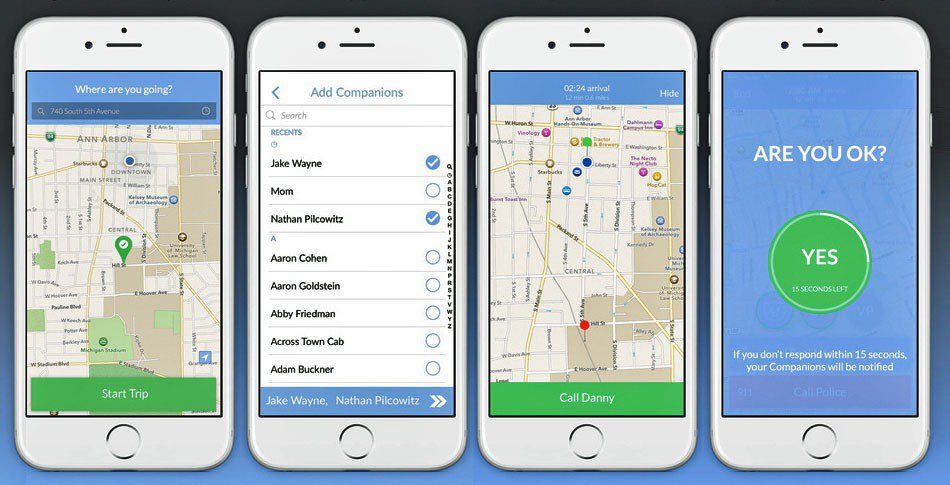 Designed by five students from the University of Michigan, Companion or Digital buddy is an app that allows people walking home to request for a companion to track their location. Companion makes it easy to keep in touch with your friends and family to virtually accompany them on your way to home at night when you are in an area feeling unsafe. This app eradicates the need for a lengthy, anxious conversation, and rather proposes a tool intended to increase your safety.
Companion can be used with any user in your contact list and those contacts need not be users of the app. To use the app, you are required to enter your starting point and destination in the app and the software keeps track of your progress, periodically asking "Are you ok?" If you don't answer within 15 seconds, by pressing a large green "Yes" button, the app will spontaneously notify your selected companion.
 The app's protectiveness does not end here. There is a two-tap call 911 button, and if you are on a university campus, it alerts the campus security for a fast response.  If the app senses that you have begun running, or taken a detour, or that your headphones have been taken out, the app will start its 15 second countdown to confirm. If you do not confirm, the app turn into an alarm system and starts ringing loudly to draw people's attention.
For university students, the app allows them to report areas around the campus that could be safer by allowing to select an 'I feel nervous' option in that area. Further, the makers of Companion will contact the university authorities if they receive such reports.
The app is of course not designed to encourage you to roam around risk areas at 3 am by yourself, but instead offers you an easy way to put yourself to ease when in such unavoidable situations.
Presently, this app can be downloaded for free for iOS and Android users.
What are views on this app? Share with us your views in the comments below.