SMS, which means "short message service," is considered today, as an essential resource within the marketing world. SMS is becoming a progressively indispensable portion of an effective multi-channel marketing. Access to mobile communications is far easier than perceived and gaining access to mobile consumers can be as simple as sending a personalised, targeted text message.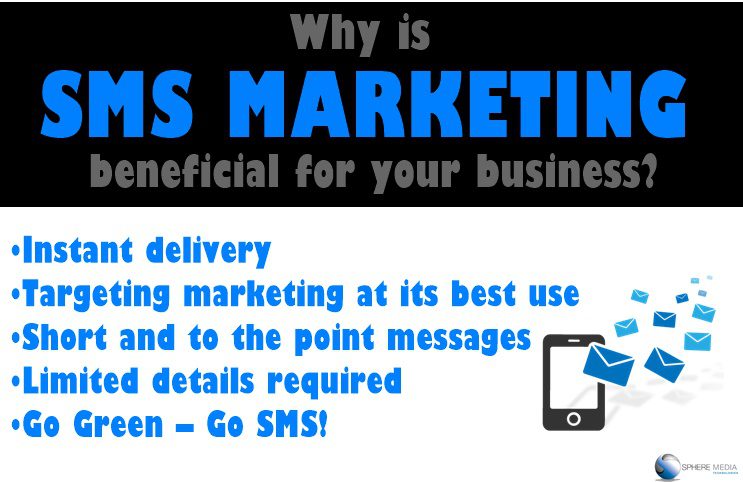 More and more organizations utilize direct SMS marketing because the mobile has become every individual's important accessory. Besides being cost effective, following are some other reasons why SMS marketing is beneficial for your business:

1. Instant Delivery
SMS is a direct immediate medium with a 90% or more average open rate, text messages are very effective when communicating with customers, especially when time is of the limited. SMS is extremely rapid, putting your message into your subscribers' pockets. The average time for all mobile carriers and SMS service is less than 7 seconds, from sent to received. In fact, most text messages are read in less than 5 minutes after they have been received. As a result, you can count on text messaging to effectively deliver short, time sensitive communications, alerts or other offers.
2. Targeting Marketing at its best use
The new age of device targeting has allowed marketers to reach mobile users via SMS campaigns tailored specifically to a variety of interests, needs and demands. With message relevance considered critical to the effectiveness of the campaign, the availability and affordability of SMS marketing services have allowed various businesses to capitalize on this strong and valuable resource. You can either send a handful of messages to a targeted group or sent thousands of SMS messages to your entire audience list. The SMS marketing service makes it convenient and easy to customize your test message campaigns to the needs of your subscribers.
SEE ALSO: 5 EMAIL MARKETING CAMPAIGN MISTAKES TO AVOID
3. Short and to the point messages
The word limit can be a challenge for some businesses, however, the character length of SMS is a boon for marketing as it impels the sender to be clear and concise. SMS gets to the point with beating around the bush making it an easy communication.
4. Limited details required
With SMS marketing, the individuals can opt to choose in the amount of information they would like to give. For example, they would only like to receive general discount messages of sales news from retailers in their area. In this case, they can only hand in their contact number and/or, their name. However, others might want to get targeted and detailed information such as when their local bistro is offering a wine evening. In this case, they can hand in other personal details. This flexibility is enticing to prospects, as they are in control of marketing.
5. Go Green – Go SMS
SMS is a medium which has significantly lower impact on the environment as it does not require paper- which means marketing costs are lower as compared to other mediums. According to statistics, 40% of the world's trees are chopped down to make paper. Don't be included in the 40% – Go green with text messaging.
Now a days most organizations have tight marketing budgets with the increasing overhead costs. With SMS marketing, meaningful ROI can be tracked, customers engaging via text messages can be identified and delivery rates can be monitored.
By using these analytics, business can create further targeted campaigns and build a better understanding of their mobile database. To be specific, the organizations can save money and improve ROI but by segmenting out numbers that are least likely to respond.