WordPress is AWESOME! Word.
You want to start with a new site or blog and you are wondering but why WordPress? Why is it that 74.6 million of websites depend on WordPress? Well, stop wondering and start reading! To help you, we have explained what WordPress is and we have compiled some key reasons as to why you should use it!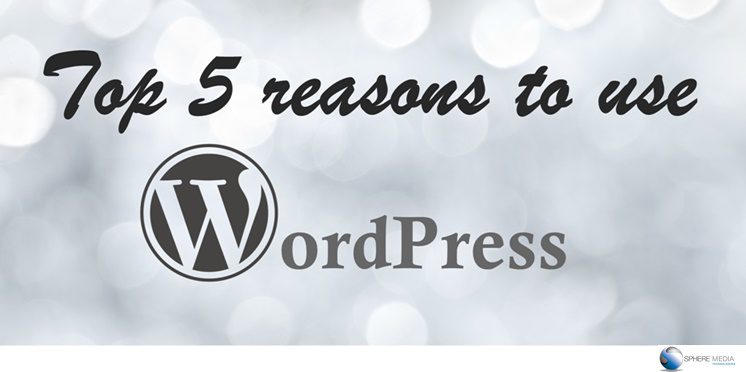 What is WordPress?
WordPress, which used to be just a blogging platform, has evolved into a rich, versatile and secure Content Management System (CMS) throughout the years. Today, it is without doubt the most popular and user-friendly CMS out there. While it is still possible to use WordPress to create blogs, it now also offers the opportunity to create websites and mobile applications.
Why WordPress?
1. It is free and priceless
In their own words:

WordPress is free to download, install and use for anyone who wants it. You are free to use it for anything- from your pet's fan page to a commercial platform, without paying a cent for license fee. There are also thousands of free themes and plug-ins available, which is more than enough for anyone, especially beginners.
2. It is easy to use
The reason why there are so many WordPress users is because it is very easy to use. Even if you are a beginner, you can easily adapt to WordPress without having to read manuals or going to special coding classes. This is because unlike other CMS, WordPress users do not need to have PHP or HTML knowledge. You will only know how user-friendly it is when you sign up. So, hurry up and sign up for your free WordPress account!
3. It is mobile-friendly and 100% responsive
Nowadays, it is essential for websites to be mobile friendly, that is, to be accessible from smartphones and tablets. With WordPress, you will be stress-free as it is made using the latest web standards, which means that you can easily build fully responsive websites within minutes. Let's test it! Click on any of the following websites:
Now open the same site on your mobile device and see how responsive it is. Cool, isn't it?
4. You can schedule your posts
This is a really cool and hidden feature of WordPress. Yes, you can schedule your posts! This is very handy especially if you are travelling, have some busy days ahead or simply if you live in a different time zone from your readers. This function will publish your article automatically on the due date on the exact due time without disturbing you.
5. It is popular worldwide and BIG BRANDS USE IT!
Due to its outstanding features, many of the world's largest brands like Time Inc., Fortune, Ford, Sony, Forbes, Harvard, CNN and Samsung are using WordPress for their websites. Big brands would not be using WordPress if it was not so secure and reliable!
We have named just a few of the top reasons you should choose use WordPress and some of the benefits it offers, and there are many more which you will experience when you start using it. So what are you waiting for? It is free, easy to use, secure, customisable, search engine friendly, mobile friendly and so much more…!
Feel free to share your thoughts in the comments section below.