On the 23rd of September, Facebook introduced the 360 degree video to its newsfeed that takes users a step closer to virtual reality, permitting the users to experience the video by looking around in every direction. Users can now discover the videos by dragging their cursors in the video on the desktop or by tilting the photos while watching on the mobiles. The 360 degrees gives a completely spherical way to experience the video from all perspectives.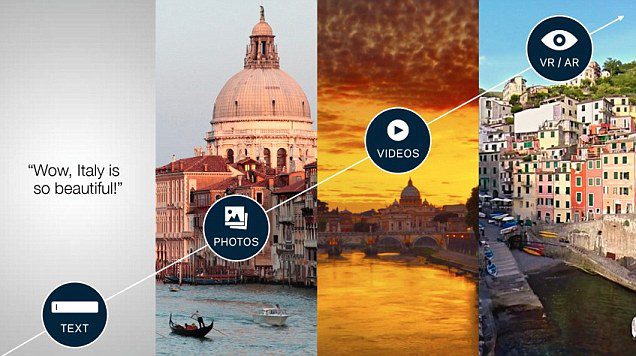 To create 360 videos, a special set of cameras are utilized to record the entire (360 degrees) of a scene. This means, that when the video is being played on Facebook, you can choose the angle and perspective you want to see the video from.  On the desktop, you can see it by dragging the cursor around the video, and you can do this on the mobile by dragging your finger or by tilting your device. You can hold your phone and the video will follow you as you turn, giving you wonderful experience never before.
The first few 360 videos were published on Wednesday as the marketing material from the makers of Star Wars, NBC's Saturday Live, GoPro and some other. The Star Wars video lets you have a look around the deserted land, The Saturday Lice video lets you join its audience and you can join a bike ride in the Idaho desert with the GoPro.
Star Wars
Take a seat in Studio 8H and experience Jimmy Fallon and Justin Timberlake's #SNL40 Cold Open like never before — in interactive 360°.
GoPro
GoPro Spherical: Sand Dune Jumping in VR with Ronnie Renner

Check out freeride legend Ronnie Renner FMX carving up the dunes in Idaho with full 360 view. For the most immersive experience, click and drag the camera.
Facebook mentioned that the 360 video works on Android and will be featured in the coming months to iOS. Facebook's top product executive, Chris, Cox, called it a really cool experience that takes you to somewhere else. Well, we surely do agree with it, because imagine the future, watching 360 videos of a friends who is at the Ultra Music Festival in Miami – you will be able to experience the festival virtually. Alongside updates, you will also be able to explore new amazing content on Facebook.
SEE ALSO: Facebook launches 'M': its bold answer to SIRI…with real humans!
However, most of the photos posted on Facebook are taken with smartphones, and 360 degree videos require dedicated cameras.  Also, Facebook is not the first one to experiment with these videos. YouTube had already started supporting 360 degree videos in March.
Nonetheless, we are excited to see and experience the innovative 360 degree videos which will help users to explore the world in a completely new perspective.
Let us know what your views in the comments below. By the way, did you know about Facebook Dislike button alert?