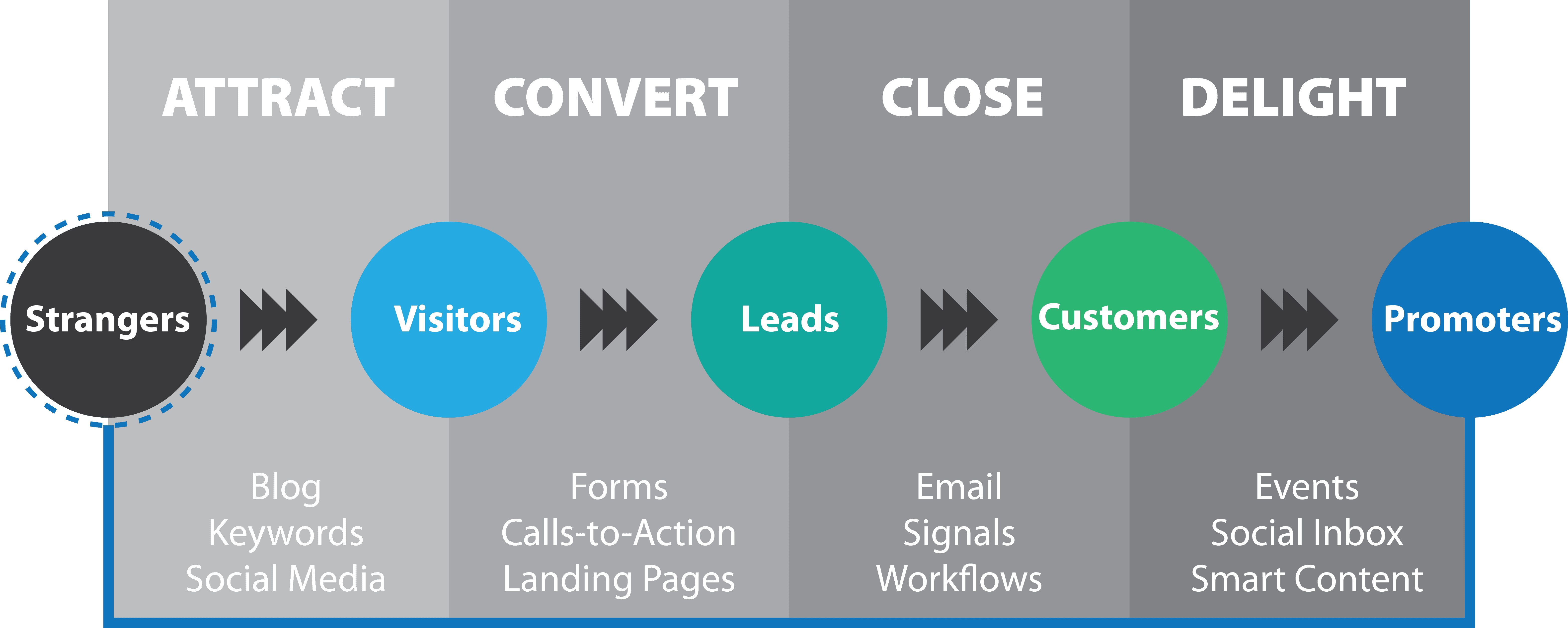 Inbound marketing is a strategy that focuses on attracting customers, or leads, via company-created Internet content, thereby having potential customers come to the company rather than marketers vying for their attention. This type of marketing tries to make it easier for customers, who are already actively looking for goods or services via the Internet, to find what a company offers.
Elements forming part of Inbound marketing
Blogs, Keywords, SEO, website, Social publishing, CRM, Call-to-Actions, Emailing, Social monitoring amongst others make up Inbound marketing.
Actions of Inbound marketing
The 4 actions are:
Attract
Convert
Close
Delight
Advantages of Inbound marketing
Attract more website visitors.
Inbound marketing is about getting the most out of your website. Creating great content that will attract customers is part of the process. A blog becomes an asset that drives traffic to your website. You can identify "keywords" that your customers are searching. Therefore, SEO is of utmost importance. If you commit to the process you can drive more visitors to your website. This can increase your chances of converting visitors to leads.
Convert More Leads
As your website is receiving more traffic now, it's time to convert those traffic into leads. Clear and compelling calls-to-action will need to be created. These calls-to-actions on your web pages help to convert the right customers to leads. Converting your web traffic to leads is of utmost importance in this process as you can increase your success rate of closing the lead to a customer.
Close More Customers
Once your website starts to generate quality leads, it is time to nurture these leads and create customers. Using tools like email marketing and social media helps pull leads through the sales funnel.
Maximize Return on Investment
Inbound marketing is about creating content that potential customers are searching for. This is different than buying advertising or "outbound marketing" in print, TV, radio, or pay per click. By creating content, you answer your customer's questions you can cut your marketing budget. In fact, "outbound" lead costs around 60% more than an inbound lead. Inbound marketing takes creativity, but it can help your bottom line and it costs less.
We believe in Inbound marketing as it is automated, cheaper and increases sales leads more than Outbound marketing.
Sphere Media Technologies has built strong B2B Inbound Marketing strategies for businesses with outstanding results. Contact us on 433 8020, Facebook or on digital@spheremedialtd.com.