Social networks have been with us for just over a decade but it sure feels like forever.
I do remember the first social media platform I signed up to – Hi5! And mind you, it was a long time back. Hi5 gave way to Facebook (FB), Twitter, Instagram (Insta), Snapchat etc.
All these platforms started for the same reason – connecting you with friends, acquaintances, colleagues and family members. It gave us a peep (for some more than a peep) into their daily lives, their likes, their interests. Next came, the use of these platforms to get a glimpse of celebrities' life (whether Bey is human!). Then, Zuckerberg gets this brilliant idea to make more money and hence was created Social Media Marketing… an core part of Digital Marketing!
It's an obsession. This intersection of people and technology resonated with our tribal curiosity and creativity. Technology was becoming more human.
Mobile phone companies (well, except Nokia) were not going to sit still, watching from the back seat, hence, the smart phone was added to the mix.
Social and mobile were the perfect storm. Today we are captivated and captured by both technologies. They are impacting how we work, socialise and play.
Here at Sphere Media, we are always keeping up with Digital Marketing trends and happenings, to ensure that our clients' brands are the most visible and engaging to their target market leading to higher sales conversion.
Live streaming video
YouTube was a sensation in 2004. That technology allowed us to record, upload and view, but 12 years later the mobile phone has become a broadcasting device that allows you to capture moments live. Not recorded and sanitised with editing but raw live footage.
Meerkat was one of the first social networks to make live streaming video easy, then Twitter bought Periscope and blocked Twitter's sharing on Meerkat. Now FB "Live" is taking on Twitter's Periscope.
This trend is changing how we share our stories (both business and private), live events and educate. It is another way to engage with your audience. It can also be a new way to build trust and credibility online with authentic unfiltered content.
Let's not forget that MBC has been able to use FB Live to broadcast their event on solar eclipse.
Chatbots are changing our conversations
Chatbots are a conversational agent that is designed to simulate intelligent conversation without a human being present.
Facebook chatbots are one application of this revolution, as they rapidly gain popularity and provide a new tool for marketers to leverage.
Chatbots offer flexibility to automate tasks, and assist in retrieving data. They are becoming a vital way to enhance the consumer experience for better customer service and growing interaction.
Since April 2016, third parties could use the messenger platform to create their own personal chatbot leading to its rapid growth all over the world. Their prime functionality remains the same, and that is to improve real-time engagement.
Customers are always searching for prompt and ready replies to their comments and queries. The chatbots are designed in such a manner that they can answer most of the queries placed by customers, without human intervention.
Due to these bots, customers can now happily shop for articles through Facebook Messenger without needing to go on the company's app or website. Not only one can shop through Messenger but an Uber can be booked as well as an air ticket.
These can help in bonding a strong relationship with your customers and potential crowds, without paying for high overheads on staff.
Facebook will soon turn Messenger into what WeChat is now.
Expiring social content
Snapchat? Insta Stories? My Day? Know them? If not, you should! Here's why.
Between all these brands online, there is a lot of online noise and clutter. The challenge is standing out and gaining attention. Normal marketing tactics don't work like they used to.
But Snapchat decided on a different tactic – Instagram and Messenger copied it. "Make content expire."
This brought urgency to the content table. Visitors now knew that they had limited time to read or view content before it disappeared. This included the watching of 10 second videos that are gone after one view and then it extended to Snapchat stories. These only last for 24 hours. Snapchat has been able to tap into the curious nature of human beings and it worked.
Expiring content is now part of the evolving social media landscape. Snapchat stories, Insta Stories and My Day are trends you may need to test and try in your future digital marketing campaigns.
Organic social traffic gets harder
Earning attention in a digital world was straightforward at first. You earned it by growing Likes on Facebook and followers on Twitter. But that is changing.
Facebook, Instagram and others are removing chronological timeline updates. They are starting to make you invisible unless you pull out the credit card. Social media is just becoming another paid media.
This is a simplified algorithm that shows the key factors behind how Facebook determines what they show to you the user. The reason? Too little space and too much content.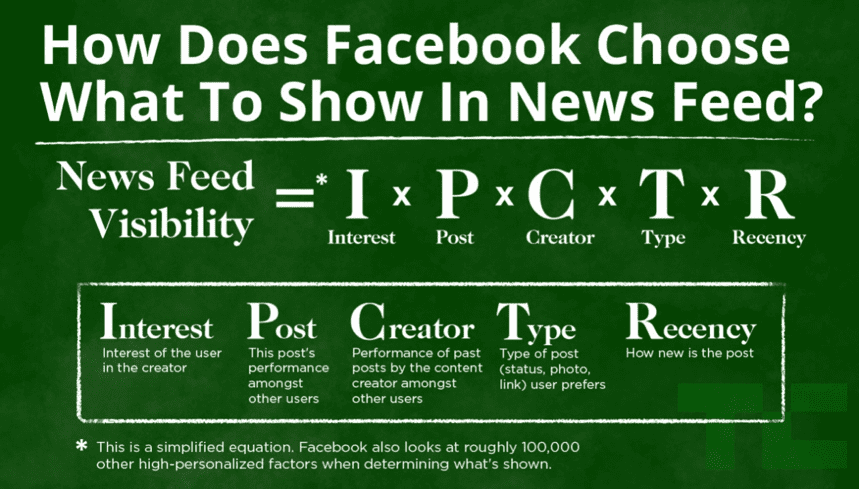 Image source: Business2community.com
This will make more businesses go back to digital basics. What does that mean for marketers?
Optimizing for search engines so you rank on the first page of Google
Building email lists so you can reach your own audience without a Google or Facebook algorithm blocking or filtering your content and updates.
Working harder at evolving skills that include growth hacking that is the new "art and science" of marketing.
So, don't put all your marketing eggs in the social media basket. It is time you pursued a multi-channel strategy. At Sphere Media, we know how important this is and we always emphasise on the importance of multi-channel strategy to our clients.
Personalisation becoming a priority
As tools, have become smarter and people's resistance to general advertising grows higher the need for personalized and relevant content and advertising delivery becomes more important.
Facebook re-targeting and adverts driven by identifying where you have been on the web and your interests are becoming the digital advertising tactic of choice for campaigns. It delivers relevant content that converts at a much higher rate.
Digital marketing automation also can provide the data and the tools to send the right content at the right time to the right customer.
Relevance is king for catching a distracted eye and online glance in a noisy world of data clutter.
The rise of the social influencer
The social web gave rise to global topic tribes.
Bloggers created content on fashion, food and thousands of other niche passions. They also built loyal followers and advocates on Instagram, Twitter and Facebook. They constructed credibility and trust built on authentic content.
As the noise increases online and reaching your target customer gets harder because of content clutter the influencer and thought leaders who have built reach globally are the new niche gatekeepers.
Brands are now paying to reach their admirers and devotees. We, Mauritian Digital Marketer can proudly say that we have some popular influencers which even do some international gigs.
Social media transforming business in a trust economy
Making a mistake or receiving a complaint in the past was behind closed doors. A telephone call, a letter or even an email discussion was private and hidden conversation for most.
Stuff up in a world of social networks is like airing your dirty washing in a stadium. It's visible and sometimes viral. Clients having a bad experience with your products or in your shop will toss you out to the sharks with glee on your social media platforms.
So, transparency is the new business paradigm. Some brands just don't know it yet.
Artificial intelligence and the rise of the robots
We are now all video creators, selfie photo producers and writers that share by the billions every hour.
The result? A content explosion.
As the data volume has increased exponentially, the scale of the noise means that making sense of it needs artificial intelligence and machines with big powerful processors. It includes search on Google and Facebook.
Where is this artificial intelligence being used that maybe you don't even notice on your favourite social media networks?
Tagging of friends on Facebook with facial recognition
Deep learning technology that is woven into Facebook's suggestions, Newsfeed algorithms and trending topics
LinkedIn uses "AI" to provide better job matching between business and candidate
Pinterest uses the intelligence of the robots to boost image recognition and search
Social Media "Buy" Buttons
You might start noticing more use of "buy" buttons on social media, allowing shoppers to buy directly from social networks rather than going to a separate e-commerce site. These buttons already exist on many social platforms, including Facebook, Pinterest, Twitter and YouTube, but they're rarely used, likely due to a lack of awareness among online shoppers.
This could change in 2017 as more platforms have been testing out the buttons and trying to get shoppers to become more familiar with them. Social platforms are also working on solving another problem with "buy" buttons, which is that the number of products available to those who click on them is limited for now.
But as retailers increase their confidence in the "buy" button and add more product availability, their customers should find it easier to use this tool for online shopping, making 2017 the year this tool finally finds success.
Increased Reliance on Data
Thanks to advances in technology, we now have several ways to collect and use data. One of the 2017 business trends will involve using that data more than ever. For example, most websites and social media platforms can capture data from visitors, including their age, the region they're in, their education level, their job position, and the device they're using.
Savvy marketers can study that information and use it to create customer profiles, which they should refer to when writing content, coming up with slogans, determining which social network to market on, and figuring out how to promote their products in general. And of course, data usage benefits customers just as much as it helps businesses.
For example, predictive analytics — which can determine which ads to show based on what customers have been searching for online — can speed up the shopping process and ensure customers get the products they need. That's probably why increased data usage is one of the most valuable 2017 business trends you can expect to see.
This is just the tip of the iceberg. We expect to see more changes to existing technologies, more new technologies and trends emerge to 'ease' our way to reach out to customers.
John Maynard Keynes said, "The difficulty lies not so much in developing new ideas as in escaping from old ones"
We live in a fast-changing world and hence it is imperative to let go of practices and tactics that are not effective as they once were.
Sphere Media will ensure that you and your brands are kept up to date with these trends and to ensure that these trends do work for you and your brands. So, contact us on 433 8020 or via email: digital@spheremedialtd.com or inbox us on Facebook.