The trend since a few years is for companies to hire an in-house team for their digital marketing. The main reason that companies put forward is that an in-house digital marketing team is more connected to your companies and your brands. They have an in-depth knowledge of the company, its brand and the company's values.
In the haste of hiring an in-house team, companies tend to forget the benefits of outsourcing to a digital marketing agency.
Money saver. A digital marketing agency is less expensive than hiring an in-house digital team. A Digital Marketing Manager/officer, graphic designers, content writer(s) and photographer(s) make a lot of people for whom you will need to pay a full salary, 13th month and let's not forget pension and medical plan, paid leaves and other such benefits.
No training costs. On top of paying salaries and benefits, you will also need to train your staff. Training these days cost an arm. The big issue with investing in staff training is employee's resignation. So, it is a lost investment.
Full one-stop shop. A digital marketing agency comprises of a team of marketing strategists, content writers, graphic designers, IT geeks and photographers.
Diverse perspective. This diverse team is comprised of people from different academic and professional backgrounds. Hence, they do bring a very diverse perspective. Having such an eclectic team is good for your brands' marketing strategies. It leads to creative and attention-grabbing campaigns.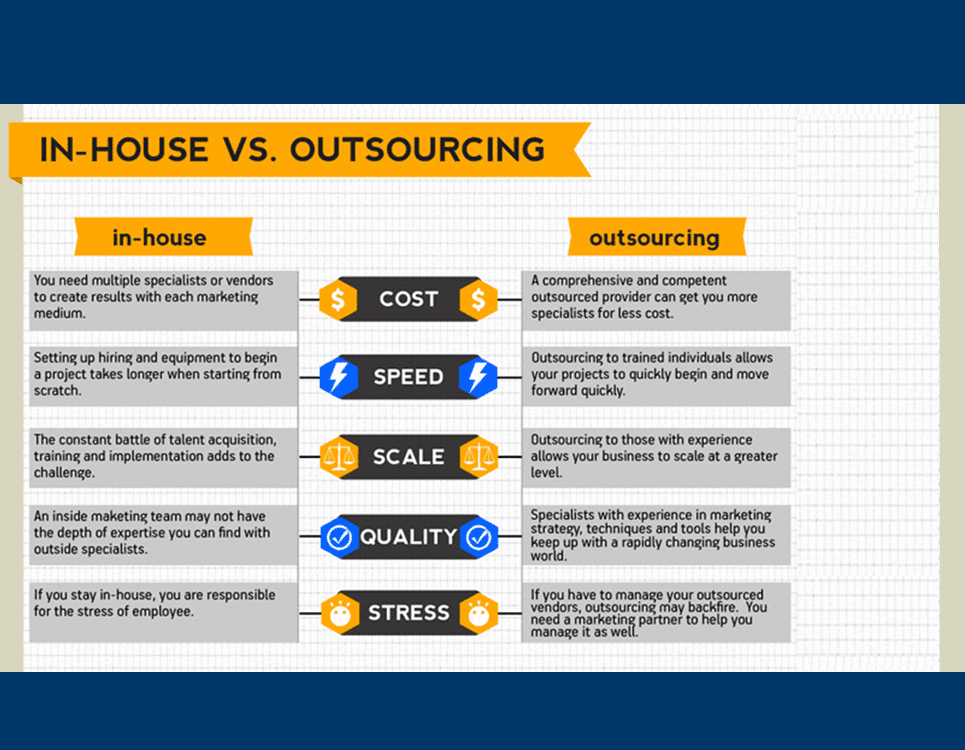 Multi-industry experience. An agency will not only work with you or in your sector but it has worked with companies from various sectors. It will have a solid experience of working in FMCG, Hospitality, Education, Services and so many other sectors. This brings in new and fresh perspective and ideas for your marketing strategies. The agency does not limit itself to what is currently being done in your sector.
Latest technologies and tools. In order to remain competitive, an agency will need to stay updated with current trends and practices not forgetting latest technologies and tools; be it for design, photography or analysis. And mind you! These technologies and tools cost an arm; if not more. Therefore, there is no need for you to spend a lot in acquiring them. Your staff will no longer need to spend time reading about new trends or attending workshops. Hence, once again, you are better off outsourcing to an agency.
See also: 4 reasons to hire a Digital Marketing Agency
Now, if you already have an in-house digital marketing department, we are not asking you to fire these people. But, we can liaise with them and work together so that your brands attain more visibility and engagement.
So, save money and your sanity by working with a reputable digital marketing agency. Sphere Media Technologies is a well-established digital marketing agency, with a team of experts with a drive, passion and full-on creativity to help you differentiate and position your brand in the market.
Contact us on 433 8020 or via email: digital@spheremedialtd.com or inbox us on Facebook.
#EmbraceDigital, let's take your company to the next level.