Are you struggling with your online presence? Do you feel that all your online presence efforts are futile? It may be that you are putting the right amount of effort in the wrong place. In this article, we have outlined 7 killing SEO tips to help you be among the top in search engines.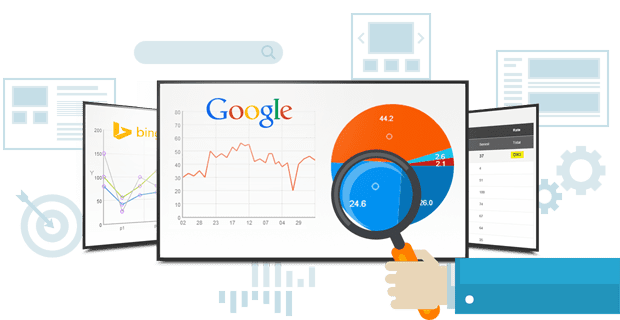 Getting Google to recognise you may seem harder than climbing Mount Everest, but being among top of search result can position your business above the rest! Whether you are a start-up, a small company or a big brand, you need to ensure that you have a proper presence in the all the accessible digital channels, including search engines as your no.1 priority.
So, what is SEO?
Search engine optimisation, or SEO in short, is a set of strategies and tactics used to increase your chances of being found when customers enter a query related to your business on search engines. SEO is a crucial part of your marketing mix and can benefit you in numerous ways. Think about it, would you rather click on the first 10 results of your query on Page 1 or would you dig in the Page 2, 3, 4, 5, 6…to find a better content? This is why SEO is a must, for your online consumers to get to you easily!
Tips
Tip #1 – Find out your target keywords
An effective SEO research starts with target keywords. This can easily be determined by doing an in-depth analysis of recent and present search trends. For example, find the keywords that normal people may type in to look for your brand and create authentic content while including these specific keywords. Your content can be in several forms, including audios, videos, images, infographics, but when published online, it should include text as well. You have to keep your readers interested as well as making it easy for Google to identify you.
Tip #2 – Check page titles and descriptions
After identifying specific keywords, you have to make sure that you make an effective use of these by including them in every pages. A unique title and description can transform what the user knows about the website even before visiting it. Have a look at the following title!

Tip #3 – Create compelling content and Blogging
It is not enough to have some target keywords up on your site, you have to keep attracting new users to make sure that your website does not stagnate. But sometimes, it can be challenging to make things interesting. Blogging is a great way to stay relevant, informative, and gain strategic rankings. But what should SMEs and start-ups blogs about? Some extra tips for you:
Write for humans! Think about what topics your target audience would find interesting.
Tell stories – make readers laugh, think – something!
Break down your content into visuals and text, to make it easy to read.
If your industry is competitive, you should blog more often.
As long as your content is related to what your potential customers are looking for, you should get good results in search engines.
SEE ALSO: TOP 4 DIGITAL MARKETING TIPS FOR SMEs/START-UPS
Tip #4 – A strong social media presence
There are millions of users across dozens of social networking channels and as an SME or start-up, you need to have a robust social media footprint from day one. A well-designed social media effort can help your business grow as well as provide it with SEO benefits. Every share, like, re-tweet…is referred to a social signal and these are an essential component of a successful SEO plan. If you cannot be everywhere, a background research can help you decide better where your target audience dwells, and you can then focus on that one.
Tip #5 – Register with Google Places for business
As a small business, you definitely want to make it easier for potential customers to get in touch with you and 'Google My Business' does exactly that! Getting your brand there is free and easy to set up. It works great for local SEO as there is a higher chance that google shows your business in search results. For example, if you own a restaurant in London and have already registered with Google Places, it may be shown as follows when someone enters a query about 'restaurants in London':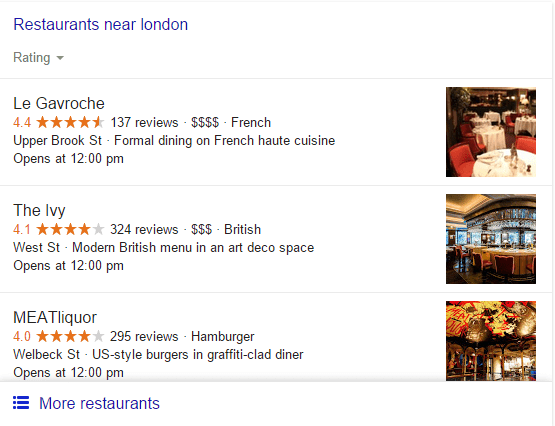 Tip #6 – Good website design
Do you think that web design should be an isolated part of your SEO strategy? Web design, while very important from an aesthetic point of view, encompasses much more. From SEO to organic traffic to conversion rate, your site's web design affects your overall digital presence. It is essential to ensure that your website is responsive, adaptive, relevant, pleasing to the eyes, easy to navigate and loads quickly.  Search engines hate poor websites!
If you believe that you cannot implement the mentioned SEO tips because you are too busy or not experience, then maybe you can consider outsourcing your SEO to a professional firm.
That's it! At least now you can refine your online presence. If you think focusing on your SEO is of low importance, just google your competitors. If they have an online presence, you are already few steps behind. When implemented together, these tips will definitely help improve your site's final page rank.
We hope that you enjoyed this article! Do you have more SEO tips? We would love to hear from you in the comments below.